FAMILY NIGHT AT THE MOVIES — 9TH SEASON CONTINUED
Corry Area Arts Council, Corry Elks Lodge, and Corry Area Primary School will continue to sponsor Family Night At The Movies in the Media Room of the Corry Area Primary School. There will be one showing of each film beginning at 5:30 PM. Both admission and popcorn are FREE. Citizens of all ages are invited to attend but children 12 and under must be accompanied by an adult. Please use the Wright Street entrance. The remaining six movies are: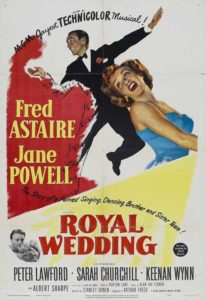 ROYAL WEDDING — JANUARY 4, 2018
This 1951 musical/comedy from MGM stars Fred Astaire and Jane Powell as siblings Tom and Ellen Bowen. With music by Burton Lane and lyrics by Alan Jay Lerner, the film was directed by Stanley Donnen and produced by Arthur Freed.
When their show closes in New York, Agent (Keenen Wynn) books them in England at the time of the Royal Wedding. Ellen falls for Lord John Berndale (Peter Lawford ) while her brother Tom becomes smitten with an English member of the cast, Anne (Sarah Churchill).
Song and dance numbers include Tom performing a dance in his hotel room on the floor, the walls, and the ceiling as he realizes he is more than just fond of Anne. Both stars shine in a vaudeville routine with perhaps the longest title ever, "How Can You Believe Me When I Say I Love You When You Know I've Been A Liar All My Life". Film received one Oscar nomination for Best Original Song, "Too Late Now" which is sung by Miss Powell.
Movie, in technicolor, is 93 minutes in length.
PAGAN LOVE SONG — JANUARY 18, 2018
This musical/romance from MGM in 1950 stars Esther Williams and Howard Keel. Set in Tahiti, it is based on the novel, Tahiti Landfill by William S. Stone. Film was directed by Robert Alton and produced by Arthur Freed.
The bronzed and beautiful Mimi (Esther Williams) half Tahitian, half American was raised by her Aunt on the isle but has always longed to move to the USA. One day Hap Endicott (Howard Keel) a school teacher arrives from Springfield, Ohio to manage his uncle's coconut plantation.
When the two meet both love and singing ensues along with some terrific Tahitian dancing and a lovely moment when Hap looks up and sees Mimi swimming among the clouds. Songs include Pagan Love Song, House of Singing Bamboo, Sea of the Moon and Singing In The Sun.
This technicolor film is 76 minutes in length.
AN AMERICAN IN PARIS — FEBRUARY 1, 2018
This 1951 MGM musical was inspired by the 1928 composition, An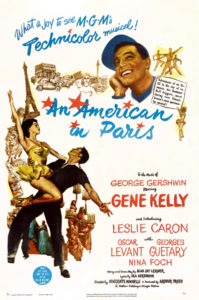 American In Paris by George Gershwin. Film stars Gene Kelly, Leslie Caron, Oscar Levant, and Nina Foch. Set in France, this movie was directed by Vincente Minnelli and produced by Arthur Freed.
The story is intermingled with dance numbers choreographed by Gene Kelly to songs "I Got Rhythm", "Stairway To Paradise", "S Wonderful", and "Our Love Is Here To Stay". Climax of the film is a 17 minute ballet set to the title song.
This film won 7 Oscars for Best Picture, Art and Set Decoration, Cinematography, Costume Design, Screenplay, Scoring of a Musical. and a special honorary one to Gene Kelly for his acting, singing, dancing, choreography, and directing. Two other nominations were for Director and Film Editing.
In technicolor, the film is 155 minutes in length.
PAJAMA GAME — FEBRUARY 15. 2018
This 1957 musical/comedy from Warners was directed by George Abbott and Stanley Donnen. Doris Day, John Raitt, Carol Haney and Eddie Foy Jr star.
An Iowa pajama factory worker Babe (Doris ) falls in love with a new Superintendent (Raitt) who has been hired to help oppose the workers demand for a pay increase.
Songs include "Pajama Game", "I'm Not At All In Love", "I'll Never Be Jealous Again", "Hey There" , "Once A Year Day", "Small Talk", "There Once Was A Man", "Steam Heat", and "Hernando's Hideaway".
Film is 101 minutes in length and is in color.
GUYS AND DOLLS — MARCH 1. 2018
This 1955 musical/comedy was made by Samuel Goldwyn Productions, directed by Joseph L. Mankiewicz and released by MGM studios. It is based on the 1950 Broadway hit with music and lyrics by Frank Loesser.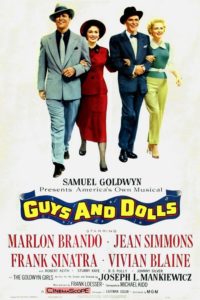 In New York City a gambler, Sky Masterson (Marlon Brando) is challenged to take Salvation Army's Sarah Brown (Jean Simmons) on an overnight trip to Cuba by another gambler, Nathan Detroit (Frank Sinatra). His girlfriend Adelaide is portrayed by Vivien Blaine. Another gambler is Nicely Nicely Johnson played by Stubby Kaye.
Four Oscar nominations for Scoring of a Musical, Art and Set Decore, Cinematography, and Costume Design. Songs include "Titlle Song", "A Woman In Love", "I'll Know", "Oldest Established Permanent Floating Crap Game", "Sit Down You're Rocking The Boat", "Sue Me", ""If I Were A Bell", "Take Back Your Mink", "Luck Be A Lady Tonight", "Pet Me Papa", "I've Never Been In Love Before", and "Adelaide's Lament". Technicolor film is 152 minutes long.
DAMN YANKEES — MARCH 15. 2018
This 1958 Warner Brothers is based on the 1955 Broadway hit of the same name. It was produced by George Abbott and Stanley Donnen with music by Richard Adler and Jerry Ross
Story is a modern day version of Faust legend where a loyal fan sells his soul to the devil to help his favorite baseball team Washington Senator win the series against the New York Yankees. Tab Hunter plays Joe, Gwen Verdon portrays Lola, and Ray Walsten is Mr. Applegate the devil.
Movie received one Oscar nomination for Scoring of a Musical. Songs include "Six Months Out Of Every Year", "Heart", "Shoeless Joe From Hannibal, Mo", "There's Something About An Empty Chair", "Whatever Lola Wants", "A Little Brains, A Little Talent", and "Two Lost Souls".
In Color and 111 minutes in length.