Ladies and gentlemen, boys and girls, children of all ages! The Corry Area Arts Council, with the support of The Corry Community Foundation, are excited to announce the 27th year of Thursday in the Park Concerts!All concerts begin sharply at 7:00 PM, and plan to wrap up around 8:45 PM.
A printable flyer for the concert dates is available. Be on the look out for these flyers around town, or feel free to print your own and post it on your refrigerator!
Each event will be announced in more detail before both here on the website, and on Facebook. We will also be getting flyers out around town in the near future!
What's different in 2018?
This year, the Arts Council board of directors wants bring back many of your favorites, while at the same time doing our part to do more to highlight more local talents. In addition to featuring more local acts, we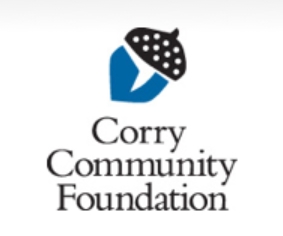 also hope to broaden our audience by introducing a just a few contemporary rock shows. We have asked that the bands keep the music lyrically appropriate for all ages, but we also understand this type of music in general might not be for everyone. To make it easier to avoid shows you may not have interested in, we have intentionally put those shows on the third Thursday of each month, which we're calling Third Thursday Rock shows.
Some acts are still being worked out; the "TBA" dates below will be announced once we have more information and are ready to unveil a few more surprises!.
The current schedule:
May 31st: Kevin Downey and Friends
June 7th: Slim and Red
June 14th: House of Rhythm
June 21st: Knuckle Down (3rd Thursday Rock)
June 28th: Concord Station
July 5th: Kokomo Time Band
July 12th: Dennis Ford
July 19th: Unsung Zeroes (3rd Thursday Rock) Happy Days
July 26th: Cahal Dunne
August 2nd: Windy River Band
August 9th: Gem City Concert Band
August 16th: Radioactive (3rd Thursday Rock)
August 23rd: Mayflower Hill
August 30th: TBA