Mark your calendars, the Corry Area Arts Council along with the Artist's Guild is thrilled to announce that the 2018 Sunday in the Park festival will be held Sunday, July 15th, 2018.
As we enter our 47th Sunday In The Park, we are looking to have an exciting arts-centric day celebrating the arts in their many forms. Foremost of these, is a juried art show open to all ages! Registration begins at 9 AM at the City Park on July 15th and ends at noon. Registration is free for students up to 12th grade, adult entrants are just $10 (save $5 and enter for only $5 if you're a member of the Artist's Guild!). Just bring the art work you would like to enter to the juried art show at the time of registration; your piece will be displayed along with other entrants and a winner will be announced later in the afternoon.
Additionally, this year, we are bringing back the beloved Sketchbook Contest. We have several challenges that artists of any skill level are welcome submit via a sketchbook, which artists will be able to take home with them after the competition is over. We ask for a $5 donation per sketchbook, and only one sketchbook per person. Submissions of sketchbooks count as entries for a prize drawing! For details on how to enter, and what items should appear in your sketchbook, please review registration information here.
Winners will be announced at 4:30.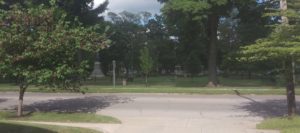 If all of that wasn't enough, we'll also be hosting crafters and vendors, food trucks, and live entertainment!
Musical acts include:
12:00 – 1:30: Bill Beggs Dixieland Band
2:00 – 3:30: Sweet Maple Singers
3:45 – 5:00: Kevin Downey
Food vendors include:
That Sausage Guy: Italian Sausage Sandwiches & Hot Dogs
Krasa's Kove: Homemade Ice Cream, Waffle Cones
Ahava Catering Co.: Wood Fired Brick Oven Pizza
Chicadee Mini Donuts
More details and flyers will be available soon! If you are a crafter or a vendor interested in setting up a table or booth during the 47th Sunday in the Park, please review and submit our vendor registration form. A small $10 donation to the Arts Council is appreciated.