Hello friends of the Corry Area Arts Council! We are thrilled to announce the complete line up (and an additional surprise) for the 2019 Thursday in the Park Concert Series! (click here for a printable version). Look for our event posters all over town, soon.
This marks the 28th year for Thursday in the Park!
Thursday in the Park would not be possible without the generosity and support of the Corry Community Foundation and Erie Arts & Culture.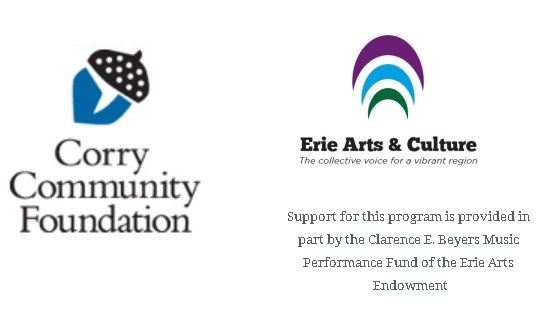 You may have noticed something a little special in the center of that poster. Thanks to funding from Corry Community Foundation, Erie Arts & Culture, and additional funds from the Erie County Gaming Revenue Authority, the Corry Area Arts Council, Inc. will be hosting an OLD FASHIONED FOURTH OF JULY FESTIVAL at the City Park!

Since Independence Day happens to fall on Thursday, July 4th this year, we decided we should make it a full day of activities, fun, and of course, music! More details to come as we get closer, to July, but thanks so much for your interest, support, and most importantly, attendance. Simply showing up to these events shows that you care about the arts in Corry, and we're glad that you do! See you there!